– Williamstown MA
Knockout Designs is based out of North Adams, MA, close to Williamstown, the home of Williams College and the New Williams Inn. The new restaurant and bar at the New Williams Inn, called The Barn, needed beer tap handles. They wanted the tap handles to complement the design of The Barn, which is charming and has a classic feel. It fits right in with the Williamstown ambiance we love so much.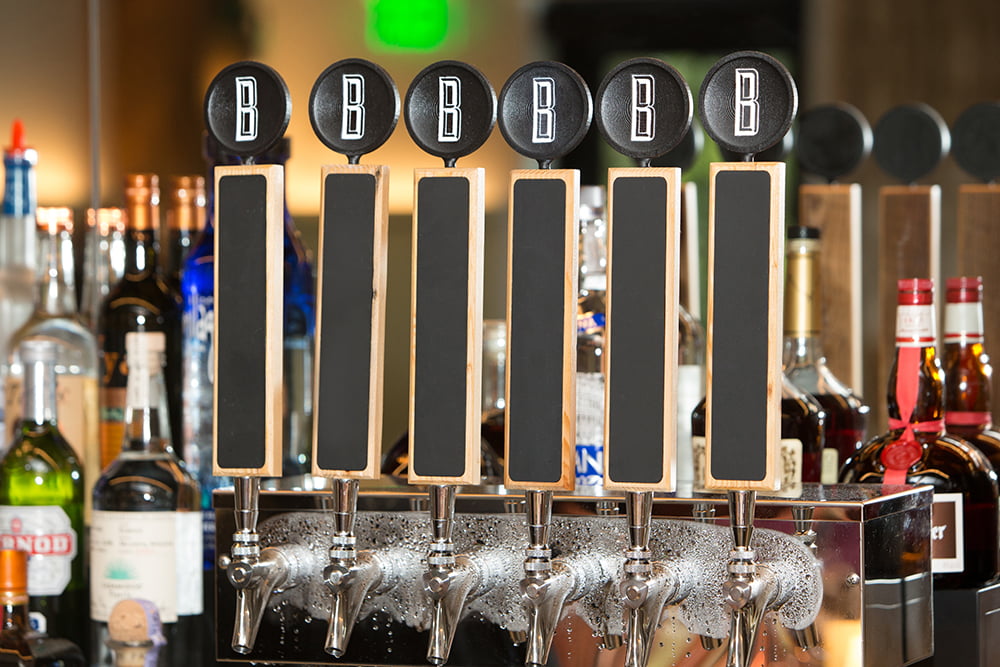 The Waterford Hotel Group design team decided to include a blackboard on their tap handles. The blackboards showcase the names of the beers that each tap handle serves. They also had us include their "B" logo made of black steel on top, with the B painted white. The metal circle curves inward to give the shape a unique touch. The shaft of the tap handle is made of reclaimed wood that was used for the beams in their restaurant. We work with all our clients one-on-one to ensure that they are happy with their designs, and our manufacturing process is thorough but quick enough to deliver between 1 and 100 tap handles.
We truly loved working with the design team at Waterford Hotel Group to create this one-of-a-kind tap handle. Blackboards are often part of the interior design of bars. Incorporating the blackboard into the tap handle is a great way to use the bar or restaurant logo and still identify each beer on tap. The colors of the wood also complement the The Barn's paint job, as you can see from the featured photos. It is special for us to see one of our tap handles so close to home. We ship hardware all over the US and Canada, but designing this tap handle was a great experience.