The original story of how we created Knockout Knobs Custom Hardware.
The Bicycle Wheel Knob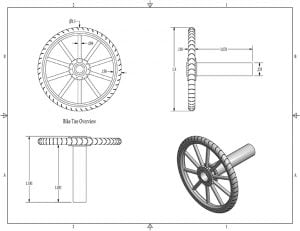 Recently while building a new kitchen, Nancy , the soon to be founder of Knockout Knobs, went to her local hardware store She noticed they had knobs for almost every sport, but bicycling. She wanted us to create a knob in the shape of a bicycle for her. A bicycle seemed too large for a knob so we decided to try a bicycle wheel knob. A local architect suggested we try 3D printing which would eliminate the high cost of creating a mold for the bicycle wheel knob. The architect created a CAD file for a bike wheel. We sent the file to a 3D printer and a few weeks later, we installed the first 3D stainless steel printed bike knobs in the clients home. The kitchen looks great, the knobs work perfectly and the client is very happy to have a one of a kind kitchen.
We decided to create Knockout Knobs to offer custom knobs, pulls, hooks and replacement hardware for all our customers.
Now we can share our happy ending with everyone.
Checkout all the knobs we've made since the bicycle wheel knob!